Products & Equipment: The Micro Store
Micro Store -> Inspection Tools & Equipment -> Thermometers -> Extech/Flir VIR50 Dual Laser IR Video Thermometer
Extech/Flir VIR50 Dual Laser IR Video Thermometer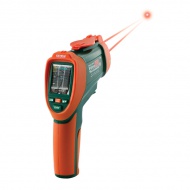 (Click to enlarge)
2.2" Color TFT LCD Display and Built-in Camera
Features:

Built-in VGA (640 x 480) Camera
MicroSD card for capturing images (JPEG) and video (3GP) for viewing on your PC
Dual laser indicates ideal measuring distance where the two laser points converge to a 1" target spot
Fast 150 millisecond response time, color LED bargraph for viewing trends
Type K Thermocouple input
Air Temperature and Relative Humidity measurement
Adjustable emissivity increases measurement accuracy for different surfaces
Adjustable High/Low set points with audible alarm alerts user when temperature exceeds the programmed set points
MAX/MIN/AVG/DIF functions, Auto Power Off
USB interface
Complete with microSD card, general purpose Type K bead wire probe, USB cable, rechargeable 3.7V battery, and carrying case
Price: $499.99
(Member Price: $485.00)
Free Domestic Ground Shipping for this item!
Download Catalog
Looking for more products from Extech? We carry many more products than we are able to list on our website. Click here to download the full Extech catalog. Then contact us to place your order!