Products & Equipment: The Micro Store
Micro Store -> Inspection Tools & Equipment -> Pelican Storm Cases -> Pelican iM2075 Storm Case
Pelican iM2075 Storm Case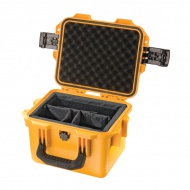 (Click to enlarge)
Pelican Storm Cases are the most solid protective cases in the industry. More than just a protective shell, they're integrated protection systems. Manufactured with HPX® high performance resin, easy Press & Pull latches and durable soft-grip handles, they're the most comfortable, toughest transport cases available. The multilayer foam option allows you to easily customize the foam to your exact needs.
If you've got sensitive, expensive or vital equipment to move, you need the power of a Storm behind you. They're even guarantee it for life. That's how sure they are their Storm Cases will never fail.
Pelican Storm Cases are more than just watertight, padlockable and made in the USA, they're also Unconditionally Guaranteed for Life. Ideal For Use In: Electronics, Video Broadcast, Aerospace, Chemical/Petroleum, Marine, Scuba, Law Enforcement, Fire & Emergency Services, Military/Government, Sports & Recreation, Public Safety and Photography. Any place you need superior protection!
DIMENSIONS:
Exterior Dimensions (LxWxH)
11.8 x 9.8 x 7.7 in.
30 X 24.9 X 19.6 cm
Interior Dimensions* (LxWxH)
9.5 x 7.5 x 7.25 in.
24.1 X 19 X 18.4 cm
*Total height shown; includes lid depth of 1.5 inches.
WEIGHT (EMPTY): 3.3 lbs/1.5 kg
FEATURES:

Two Press & Pull Latches
Double-layered, Soft-grip Handle
Two Padlockable Hasps
Vortex® Valve
Flush Powerful Hinges
Meets Carry-on Regulations
Lightweight Strong HPX® Resin
Watertight
Guaranteed For Life
Available Options/Accessories
iM2075-X0001 Storm Case w/Foam
$85.95
Members: $83.38
Add To Cart
iM2075-X0000 Storm Case - No Foam
$76.95
Members: $74.65
Add To Cart
iM2075-X0002 Storm Case w/Padded Dividers
$107.95
Members: $104.72
Add To Cart
More photos of this item:
(Click to enlarge)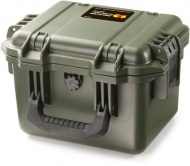 (Click to enlarge)