Products & Equipment: The Micro Store
Micro Store -> Inspection Tools & Equipment -> Psychrometers -> Extech/Flir MO290 Pinless Moisture Psychrometer + IR
Extech/Flir MO290 Pinless Moisture Psychrometer + IR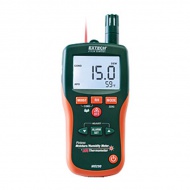 (Click to enlarge)
8-in-1 Meter with Patented Built-in IR Thermometer Monitor moisture in wood and other building materials with virtually no surface damage with the Pinless Moisture sensor (Pin-type Moisture Probe included). Measure Humidity and Air Temperature with built-in probe plus non-contact InfraRed Temperature with patented IR design.
Features:

Quickly indicates the moisture content of materials with Pinless technology without damaging the surface; Remote Pin-type probe (MO290-P included) allows for contact moisture readings (3ft/0.9m cable length)
Works on multiple wood types and other building materials
Easy to read, large dual display with automatic backlight feature
Simultaneously displays moisture value of wood or material being tested, Air Temperature, IR Temperature, or Humidity
Pinless measurement depth to 0.75" (19mm) below the surface
Programmable high/low Moisture and Humidity alarms
Designed with a patented IR circuit to measure non-contact surface temperature; 8:1 distance to spot ratio with 0.95 fixed emissivity
Built-in Humidity/Temperature probe measures Relative Humidity, Air Temperature plus Grains Per Pound (GPP)/(g/kg), Dew Point (DP), Vapor Pressure, and condensation point
Automatic calculation of differential Temperature (IR - DP) to determine condensation point
Min/Max and Data Hold
Auto power off and low battery indication
Complete with pin moisture probe with cable, 9V battery and case
Price: $529.00
(Member Price: $513.13)
Free Domestic Ground Shipping for this item!
Download Catalog
Looking for more products from Extech? We carry many more products than we are able to list on our website. Click here to download the full Extech catalog. Then contact us to place your order!