Products & Equipment: The Micro Store
Micro Store -> Inspection Tools & Equipment -> Miscellaneous - Inspection -> Extech/Flir RF40 Portable Battery Coolant/Glycol Refractormeter
Extech/Flir RF40 Portable Battery Coolant/Glycol Refractormeter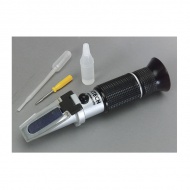 (Click to enlarge)
Measures the freezing point of coolants and concentration of Ethylene/Propylene Glycol
Features:

Measures -60 to 32°F Propylene/Ethylene Glycol freeze point and 1.11 to 1.30 Specific Gravity of Battery Acid


Automatic Temperature Compensation (ATC)


Requires only 2 or 3 drops of solution


The prism and lens with a simple focus adjustment


Complete with case, calibration screwdriver, plastic pipette and calibration solution
Price: $89.99
Download Catalog
Looking for more products from Extech? We carry many more products than we are able to list on our website. Click here to download the full Extech catalog. Then contact us to place your order!