Products & Equipment: The Micro Store
Micro Store -> Inspection Tools & Equipment -> Moisture Meters -> Protimeter BLD5702 Digital Mini Moisture Meter
Protimeter BLD5702 Digital Mini Moisture Meter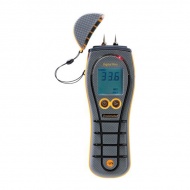 (Click to enlarge)
Moisture damage prevention begins with a better diagnosis.
The Digital Mini allows building professionals—such as flood damage restoration contractors, surveyors, homebuilders and architects—to assess building moisture levels during new build and refurbishing activities. It helps you easily identify the extent of the moisture penetration, diagnose the cause of the problem and monitor changes in moisture level. Plus, the ability to add optional attachments and a patent pending reference mode enables you to compare your reading with a baseline measurement.
Features:

Rugged construction
Large backlit display
Pin moisture measurement
Wide range of accessory plugins
Industry leading 2-year warranty
Price: $244.95
Price: $229.95
Free Domestic Ground Shipping for this item!