Products & Equipment: The Micro Store
Micro Store -> Inspection Tools & Equipment -> Moisture Meters -> Extech MO25 Moisture Pen
Extech MO25 Moisture Pen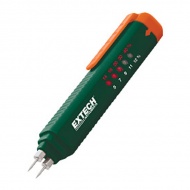 (Click to enlarge)
Compact moisture meter for wood and building materials.
Features:

Ideal for building restoration applications such as detecting water leakages inside walls, ceilings, and floors
Use on wall board, sheet rock, cardboard, plaster, concrete, mortar, paper, fabric, and more
Five dual color LEDs indicate 10 moisture levels:

Green LEDs 5%, 7%, 9%, 11%, 12%
Red LEDs 14%, 16%, 20%, 30%, 40%

Easy-to-use one button operation
Data Hold and Auto power off
Battery level check on power-up
Complete with protective cap, built-in pocket clip, and one AAA battery
Price: $39.99
(Member Price: $38.80)
Download Catalog
Looking for more products from Extech? We carry many more products than we are able to list on our website. Click here to download the full Extech catalog. Then contact us to place your order!