Products & Equipment: The Micro Store
Micro Store -> Inspection Tools & Equipment -> Moisture Meters -> Delmhorst Navigator Pro Moisture Meter
Delmhorst Navigator Pro Moisture Meter
(Click to enlarge)
The Delmhorst Navigator Pro Moisture Meter with Mapping System integrates pin and pinless moisture measurements and a thermo-hygrometer into a single state-of-the-art unit. The Navigator Pro can take all required measurements including RH, temperature and moisture content of virtually any material.
In BASIC operation (no job definition), the Navigator Pro utilizes simplified controls by taking measurements in either scan, pin or thermo-hygrometer mode for quick and easy use. For moisture mapping and documentation purposes, the Navigator Pro operates in ENHANCED mode where job definitions and materials tested are set by the user. Data measurement points can be viewed on-screen, recalled from memory or downloaded to a PC using an infrared link and data transfer software.
Basic Operation:

Simplified controls for quick and easy use.
Enhanced Operation:

Job definition of up to 5 jobs with unique Job ID numbers.
Data grouping by specific rooms, with up to 32 rooms per job.
Pin mode:
5-60% MC wood scale.
0-100 numerical reference scale.
0.1% - 6% drywall scale.
Scan Mode:
0-300 numerical reference scale
Thermo-hygrometer:
Measures temp/RH.
Calculates GPP/dew point.
Fast response time.
Additional Features:
Optional Infrared PC Linkage & Software application.
Rugged construction ensures years of reliable use.
Sturdy plastic carrying case.
1 year warranty.
Navigator Pro Package Variations:
With Case: Includes meter, (1) RHT-S1 humidity and sensor carrying case.
Basic Package: Includes meter, (1) RHT-S1 humidity sensor, carrying case, 2-E electrode, and PC/KIT software application program.
Available Options/Accessories
NAVPRO/BP Navigator Pro Basic Package
$1295.95
Members: $1,257.08
Add To Cart
More photos of this item: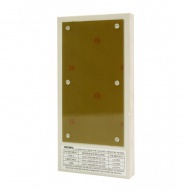 (Click to enlarge)