Products & Equipment: The Micro Store
Micro Store -> Inspection Tools & Equipment -> Moisture Meters -> Tramex CME4 Concrete Encounter 4
Tramex CME4 Concrete Encounter 4
(Click to enlarge)
A handheld electronic instrument used for testing moisture conditions in concrete and other floor slabs and screeds. Versatile, precise and easy to use, the CME4 allows the user to make multiple tests over a large area in the shortest possible time.
Features:
Designed, developed and calibrated specifically for concrete.
Instant readings, measures up to 6% moisture content.
Non-destructive operation (No drilling).
Large easy to read analog display.
"Hold" button freezes reading on analog meter.
Battery operated (Supplied).
Strong robust design.
Warranty:
All Tramex products carry a full satisfaction guarantee including a one year warranty against defects in parts & workmanship and a refund if the unit is returned, shipping pre-paid, in new condition within 21 days of original delivery. Proof of purchase is necessary.
Available Options/Accessories
CME4 Concrete Encounter


Free Domestic Ground Shipping for this item!

$464.00
Members: $464.00
Add To Cart
CALCRH Calibration Check Plate
$74.00
Members: $74.00
Add To Cart
Free Domestic Ground Shipping for this item!
More photos of this item: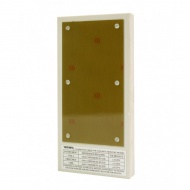 (Click to enlarge)