Products & Equipment: The Micro Store
Micro Store -> Inspection Tools & Equipment -> Hygrometers & Humidity Meters -> Extech/Flir 445580 Humidity/Temperature Pen
Extech/Flir 445580 Humidity/Temperature Pen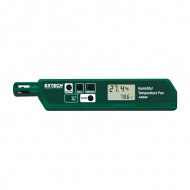 (Click to enlarge)
Compact, digital Hygro-Thermometer. Ideal for field use.
Features:

Dual LCD display for Temperature, Humidity,
and advanced function indication
Measures Temperature (°C/°F) and Relative Humidity simultaneously
Built-in Temperature and Humidity sensors for convenient operation
Max/Min memory functions for both Temperature & Relative Humidity
Built-in self calibration utility with optional RH calibration bottles
Data Hold for freezing the LCD display status
Complete with pocket clip and 3V lithium battery
Optional kit includes 33% and 75% RH
Calibration Standards and hard vinyl carrying case
Optional
Price: $65.99
(Member Price: $64.02)
Download Catalog
Looking for more products from Extech? We carry many more products than we are able to list on our website. Click here to download the full Extech catalog. Then contact us to place your order!