Products & Equipment: The Micro Store
Micro Store -> Inspection Tools & Equipment -> Sampling Pumps & Media -> Sensidyne GilAir Plus
Sensidyne GilAir Plus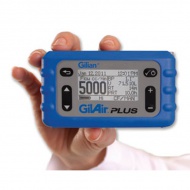 (Click to enlarge)
The ultimate personal air sampling pump delivering enhanced performance, greater versatility, and superior design and comfort.
Features:

Widest Flow Range - The GilAir® Plus features wide dynamic flow and pressure ranges to address all personal air sampling methods with flow ranges between 20 and 5,000 cc/min. With patent pending QuadModeSM air sampling technology, the GilAir® Plus can perform both high-flow constant pressure and constant flow (450-5,000 cc/min) and low-flow constant pressure and constant flow (20-499 cc/min) with a single pump without external adaptors. It's like getting two pumps in one.
Unmatched Versatility - Samples particulates, vapors, gases, and metal fumes
Works with all common sampling media, Multi-language capability: English, Spanish, French, Italian, Dutch, Portuguese and German, Outlet port for bag sampling
High Performance - GilAir® Plus is a smart air sampling pump that provides ambient or standard temperature and pressure corrected display (STP model) and data-logging for up to 16 sampling events (STP and Datalog model). The pump has high back pressure capability of up to 40" H2O in high flow and up to 25" H2O in low flow. An automatic self check system ensures sample accuracy. In the event of a fault condition, the pump's selectable automatic fault recovery feature attempts to restart the pump up to 10 times every 3 minutes to determine if the fault condition has been cleared.
Ease of Use - An intuitive menu, keypad interface and large, easy-to-read back-lit display makes adjusting pump settings quick and easy. Once the pump is set up, the keypad can be locked to prevent tampering. Convenient and innovative SmartCalSM feature provides automatic pump calibration.
Available Options/Accessories
| | | | |
| --- | --- | --- | --- |
| GilAirPlus Personal Air Sampling Pump | | Call for price! | Add To Cart |