Products & Equipment: The Micro Store
Micro Store -> Inspection Tools & Equipment -> Headlamps, Flashlights, & Work Lights -> Pelican 2600 HeadsUp Lite™ Headlight
Pelican 2600 HeadsUp Lite™ Headlight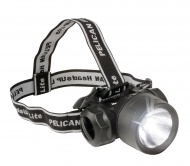 (Click to enlarge)
The 2600 is a premier hands-free light. It comes with a hi-intensity Krypton lamp for intense brightness, as well as an emergency back-up lamp stored inside the body.
The light weight ABS resin body is corrosion proof, submersible, and virtually indestructible. A rubber strap for a hard hat and a comfortable adjustable cloth strap for bare head are both included. Also, for extra comfort a forehead foam pad is attached behind the body. The 90° pivoting head allows you to aim light right where you need it. The HeadsUp Lite 2600 is powered by 4 AA alkaline cells (included).
Price: $44.95
(Member Price: $43.61)
Download Catalog
Looking for more products from Pelican Products? We carry many more products than we are able to list on our website. Click here to download the full Pelican Products catalog. Then contact us to place your order!
More photos of this item:
(Click to enlarge)