Products & Equipment: The Micro Store
Micro Store -> Inspection Tools & Equipment -> Inspection Equipment Kits -> Extech/Flir MO280-KH Home Inspector Kit
Extech/Flir MO280-KH Home Inspector Kit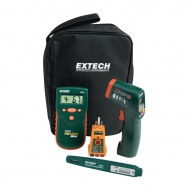 (Click to enlarge)
Specifically designed for home inspection professionals, this kit aids in identification of moisture, HVAC, electrical and hot water system issues.
This kit includes:
Model MO280 Pinless moisture meter

Select from 10 different wood types
Displays %moisture from 0 to 99%
Measurement depth to 0.75" (22mm) below the surface
Model 42500 Mini IR Thermometer

Idea for testing HVAC supply and return applications
Measures from -4 to 500°F (-20 to 260°C)
Built-in laser pointer improves aim and identifies target
0.95 fixed emissivity with 6:1 distance to target ratio
Model ET10 GFCI Receptacle Tester

Tests for faulty wiring in 3-wire receptacles and GFCI Circuits
Detects 5 wiring faults
Lights indicate circuit condition
Model 39240 Waterproof Stem Thermometer

Ideal for testing hot water heaters
Measures from -40 to 392°F (-40 to 200°C)
2.75" (70mm) stainless steel stem
Supplied in an attractive storage case that provides protection and organization for the testers whenever they are needed.
Price: $224.99
(Member Price: $218.25)
Download Catalog
Looking for more products from Extech? We carry many more products than we are able to list on our website. Click here to download the full Extech catalog. Then contact us to place your order!