Products & Equipment: The Micro Store
Micro Store -> Inspection Tools & Equipment -> Inspection Equipment Kits -> Tramex RIK5.1 Roof Inspection Kit
Tramex RIK5.1 Roof Inspection Kit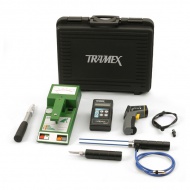 (Click to enlarge)
The Roof Inspection Kit allows for point-of-contact, non-destructive checking of moisture conditions in roofing and waterproofing systems up to approximately 4 inches in depth, as well as non-destructive measurement of moisture conditions in concrete decks, wood decks and ambient relative humidity & dew-point conditions.
This kit comes in a protective, heavy-duty carrying case with die-cut foam lining
Features:

Non-Destructive, deep penetration moisture testing.
7" Pin-Probe for deep penetration.
Instant concrete moisture measurement.
7-40% readings of moisture content in Wood and 0-100 comparative readings in all other materials.
Clear, easy to read analog/digital dials.
Kit includes:

RWS Deep penetrating, non-destructive moisture meter.
CMEX2 Digital, concrete moisture meter.
1 x Hygro-i ® relative humidity probe (for use with CMEX2 for RH, Temperature and Dew point readings).
Hand held electrode with 1¼" and 7" insulated pins.
HPW Hole Punch - for creating pilot holes for long pin probes in EIFS & Roofing Systems.
IRTX - Infrared surface thermometer.
Telescopic Handle (for use on Roofs)
Heavy duty carry case, with die cut foam lining.
Warranty:

All Tramex products carry a full satisfaction guarantee including a one year warranty against defects in parts & workmanship and a refund if the unit is returned, shipping pre-paid, in new condition within 21 days of original delivery. Proof of purchase is necessary.
Price: $2249.95
Free Domestic Ground Shipping for this item!