Products & Equipment: The Micro Store
Micro Store -> Inspection Tools & Equipment -> Inspection Equipment Kits -> Tramex WMMK5.1 Wood Master Kit
Tramex WMMK5.1 Wood Master Kit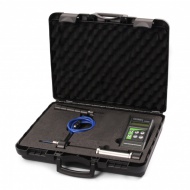 (Click to enlarge)
A complete kit for instant and accurate measurement of moisture content in a large range of wood species and wood-based products by non-invasive methods using impedance, or using the pin-type electrodes. Featuring the Tramex WME Wood Moisture Encounter, a handheld heavy-duty pin probe and a handheld heavy-duty hammer pin probe, the Wood Master Kit comes in a Tramex protective heavy-duty carrying case with die-cut foam lining.
Features:

Deep signal, non-destructive penetration to over 11⁄4" in non-destructive mode.
Adjustable specific gravity (SG) for precise moisture content (MC%) readings in different wood species.
Accuracy in moisture content readings from 5% to 55% in wood in non-invasive mode.
Hold function "freezes" meter reading when inspecting areas where the meter face is not visible.
Large clear backlit digital display giving meaningful readings.
Plug in heavy-duty pin-type and hammer wood probes giving readings of 7% to 40% moisture content.
Auto species and temperature correction factors. Multi-language function.
Kit includes:

WME digital, non-destructive moisture meter for wood.
HH14TP30 Heavy duty pin-type probe for wood.
HA21SP52 Heavy duty hammer pin-type probe for wood.
Heavy duty carry case.
Warranty:

All Tramex products carry a full satisfaction guarantee including a one year warranty against defects in parts & workmanship and a refund if the unit is returned, shipping pre-paid, in new condition within 21 days of original delivery. Proof of purchase is necessary.
Price: $684.95
(Member Price: $664.41)