Products & Equipment: The Micro Store
Micro Store -> Inspection Tools & Equipment -> Inspection Equipment Kits -> Tramex RMK5.1 Roof Master Kit
Tramex RMK5.1 Roof Master Kit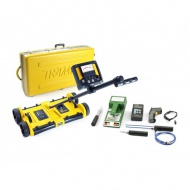 (Click to enlarge)
The Roof Master Kit is the complete kit for the roofing professional, allowing for continuous and point-of-contact, non-destructive surveying of moisture conditions in roofing and waterproofing systems up to 6 inches in depth, as well as non-destructive measurement of moisture conditions in concrete decks, wood decks and ambient relative humidity & dew-point conditions.
This kit comes in a protective, heavy-duty wheeled carry case with die-cut foam lining.
Features:

Non-Destructive, deep penetration moisture testing.
7" Pin-Probe for deep penetration.
7-40% readings of moisture content in Wood and 0-100 comparative readings in all other materials.
Clear, easy to read analog/digital dials.
Battery operated (supplied)
Kit includes:

Dec Scanner mobile moisture scanner for large roofing areas.
RWS non-destructive moisture meter.
CMEX2 non-destructive moisture meter for concrete.
Hand held electrode with 7" insulated pins.
1 x Hygro-i ® relative humidity probe (for use with CMEX2 for RH, Temperature and Dew point readings).
Infrared Surface Thermometer.
Telescopic Handle (for use on Roofs).
High impact, polypropylene carrying case, with die cut foam lining.
Warranty:
All Tramex products carry a full satisfaction guarantee including a one year warranty against defects in parts & workmanship and a refund if the unit is returned, shipping pre-paid, in new condition within 21 days of original delivery. Proof of purchase is necessary.
Price: $8264.00
Free Domestic Ground Shipping for this item!