Products & Equipment: The Micro Store
Micro Store -> Inspection Tools & Equipment -> Inspection Equipment Kits -> Tramex WDZK5.1 Water Damage Restoration EZ Kit
Tramex WDZK5.1 Water Damage Restoration EZ Kit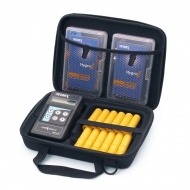 (Click to enlarge)
A compact kit designed for the instant and accurate measurement of moisture content in concrete slabs and giving comparative readings in other cementitious floor screeds. Allowing for testing per ASTM F2659 and ASTM F2170 (and ASTM F2420 with optional Hood), the Concrete Inspection EZ Kit comes in a protective Tramex Easy-travel case.
Features:

Measures up to 6.9% Moisture Content in Concrete.
Large clear backlit digital display.
Hold function "freezes" meter reading when
inspecting areas where the meter face is not visible.
Attaches to a relative humidity Hygro-i ® probe for
in situ testing of concrete.
7% to 40% Moisture Content measurement in Wood using Pin-type probe attachment. (optional)
Includes:
CMEX II - Conctete Meter
3 x Hygro-i Probes
12 Hole Liners
Price: $859.95
(Member Price: $859.95)
Free Domestic Ground Shipping for this item!