Products & Equipment: The Micro Store
Micro Store -> Inspection Tools & Equipment -> Inspection Equipment Kits -> Micro Deluxe Inspection Kit
Micro Deluxe Inspection Kit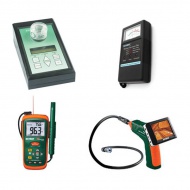 (Click to enlarge)
A complete MICRO Certified Mold Inspector's Kit. All the top-rated mold inspection equipment and mold testing equipment you'll need to start your indoor air quality assessments today!
This Kit includes:
Zefon ZBP-200 Bio-Pump® Plus
This Bio-Pump is the smallest and lightest portable battery powered IAQ sampling pump available. It provides the simplest and most convenient way to sample with Air-O-Cell® and Via-Cell® cassettes at a flow rate of 15LPM.
The Tramex Moisture Encounter Plus is a non-destructive overall building inspection tool which has applications for numerous industries. It has many unique features that make moisture measurement and evaluation fast, accurate and versatile.
Extech/Flir RH101 Hygro-Thermometer + InfraRed Thermometer
This versatile instrument simultaneously displays humidity and temperature on a super-large, dual black lit display. The remote humidity sensor with a 39" coiled cable provides readings for both humidity and ambient temps. A built-in laser pointer helps you target an exact location for measurement.
Extech/Flir BR200 Video Borescope/Wireless Inspection Camera This 17mm camera diameter and 3.5" Color TFT LCD Wireless Monitor with a 2GB microSD memory card (included) for capturing images (JPEG) or video (AVI) for viewing on your PC using Windows Multimeda Player.
Price: $1522.08
(Member Price: $1,476.42)
Free Domestic Ground Shipping for this item!