Products & Equipment: The Micro Store
Micro Store -> Inspection Tools & Equipment -> Inspection Equipment Kits -> Tramex EIK5.1 EIFS Inspection Kit
Tramex EIK5.1 EIFS Inspection Kit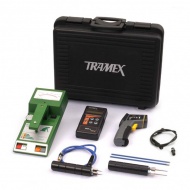 (Click to enlarge)
The EIFS Inspection Kit provides an ideal package for detecting moisture behind deep insulation systems or drywall barriers with a choice of non-destructive or pin-type measurement.
Featuring the Roof & Wall Scanner (RWS) which incorporates the original Tramex Leak Seeker and Wet Wall Detector in one versatile instrument.
Features:

Non-destructive, Deep Penetration Moisture Detection.
7" pins for Deep Wall Probing using attachable Pin-Type Probe.
Measures 0-99% Ambient Relative Humidity Conditions.
Temperature, Dew Point & Grains Per Pound readings.
Measures 5 - 55% Moisture Content in Wood in non-invasive mode.
Measures 7 - 40% Moisture Content in Wood using pin-type wood probe.
Instant Surface Temperature Measurement.
Clear, easy to read dial (RWS).
Backlit display for poor lighting conditions (MRH3).
Kit includes:
RWS Deep penetrating, non-destructive moisture meter.
MRH III Digital, non-destructive moisture meter for general building materials.
Hygro-i ® Relative Humidity probe and connector cable.
HH14TP30 Heavy-duty pin-type probe.
7" Pins for deep wall probe.
IRTX Infrared Surface Thermometer.
Telescopic Handle (for use on Roofs).
HPW Hole Punch - for creating pilot holes for long pin probes in EIFS & Roofing Systems.
Heavy-duty carry case, with die cut foam lining.
Warranty:
All Tramex products carry a full satisfaction guarantee including a one year warranty against defects in parts & workmanship and a refund if the unit is returned, shipping pre-paid, in new condition within 21 days of original delivery. Proof of purchase is necessary.
Price: $2195.95
(Member Price: $2,152.04)
Free Domestic Ground Shipping for this item!