Products & Equipment: The Micro Store
Micro Store -> Inspection Tools & Equipment -> Distance Meters -> Extech/Flir DT200 Laser Distance Meter
Extech/Flir DT200 Laser Distance Meter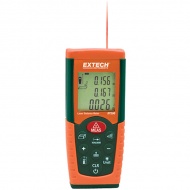 (Click to enlarge)
Laser measurements up to 115ft (35m).
Features:

Measures from 2" to 115' (0.05 to 35m)
Laser measurement accurate to 0.08 inches at 32 feet
Historical Storage recalls the previous 10 records (measurements or calculated results)
Automatically calculates Area and Volume
Indirect measurement using Pythagorean theorem
Continuous measurement function with Min/Max distance tracking updates every 5 seconds
Addition/Subtraction, Front or rear edge reference
Low battery indicator, Auto power off
Complete with carrying case and 2 AAA batteries
Price: $129.99
(Member Price: $126.10)
Free Domestic Ground Shipping for this item!
Download Catalog
Looking for more products from Extech? We carry many more products than we are able to list on our website. Click here to download the full Extech catalog. Then contact us to place your order!