Products & Equipment: The Micro Store
Micro Store -> Inspection Tools & Equipment -> Electromagnetic Field Meters -> Extech 480846 8GHz RF EMF Strength Meter
Extech 480846 8GHz RF EMF Strength Meter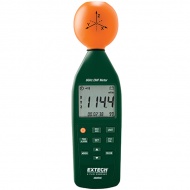 (Click to enlarge)
This 480846 RF EMF Strength Meter monitors high frequency radiation in the 10MHz to 8GHz range. Ideal for mobile phones, cell phones, base stations, locating RF hotspots, wireless network (Wi-Fi) RF detection, RF "Electrosmog" detection, microwave leakage, and wireless communication applications (CW, TDMA, GSM, DECT).
Features:

For electromagnetic field strength measurement including:

Mobile phone base station antenna radiation
RF power measurement for transmitters
Wireless LAN (Wi-Fi) detection/installation
Wireless communication applications (CW TDMA GSM DECT)
Microwave leakage

Price: $649.00

(Member Price: $629.53)

Free Domestic Ground Shipping for this item!

Download Catalog

Looking for more products from Extech? We carry many more products than we are able to list on our website. Click here to download the full Extech catalog. Then contact us to place your order!