Products & Equipment: The Micro Store
Micro Store -> Inspection Tools & Equipment -> Electromagnetic Field Meters -> Extech EMF510 EMF/ELF Meter
Extech EMF510 EMF/ELF Meter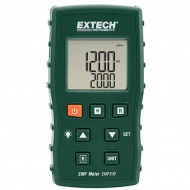 (Click to enlarge)
The Extech EMF510 measures energy from electromagnetic fields (EMF) and electrical signals and is sensitive to extremely low frequency levels (ELF). The built-in single-axis sensor is ideal for monitoring power lines, electrical appliances, fans and blowers, and electrical circuits in two ranges with milli-Gauss and micro-Tesla units.
Features:

Measure EMF/ELF levels in milliGauss (mG) or microTesla (μT) up to 2000mG (200μT) with two ranges to choose from
Built-in single axis sensor provides basic accuracy reading of ±5%
30 to 300Hz bandwidth
Backlit display to view in dimly lit areas
Data Hold and Min/Max functions
Auto power off with disable
Tripod mount (optional TR100 Tripod sold separately)
Complete with wrist strap and 3 AAA batteries
Price: $139.99
(Member Price: $135.80)
Free Domestic Ground Shipping for this item!
Download Catalog
Looking for more products from Extech? We carry many more products than we are able to list on our website. Click here to download the full Extech catalog. Then contact us to place your order!