Products & Equipment: The Micro Store
Micro Store -> Inspection Tools & Equipment -> Electromagnetic Field Meters -> Extech EMF450 Multi-Field EMF Meter
Extech EMF450 Multi-Field EMF Meter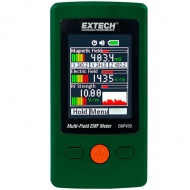 (Click to enlarge)
The EMF450 is a convenient 3-in-1 EMF meter which simultaneously measures and displays Magnetic Field, Electric Field and Radio Frequency Strength. Ergonomic pocket-sized design with an easy-to-navigate menu.
Features:

Multi-Field measurements: Magnetic Field, Electric Field, and Radio Frequency (RF) Strength
Magnetic Field Triple Axis Sensor (X, Y, Z)
Audible alarm
2.4" (240 x 320 pixels) color TFT display
Adjustable screen brightness (low, medium, high)
Store up to 20 RF historical records
Data Hold and Auto Power Off with disable feature
Five languages: English, Traditional/Simplified Chinese, Japanese, Spanish
Complete with 3 AAA batteries and USB power supply cable
Price: $299.99
(Member Price: $299.99)
Download Catalog
Looking for more products from Extech? We carry many more products than we are able to list on our website. Click here to download the full Extech catalog. Then contact us to place your order!