Products & Equipment: The Micro Store
Micro Store -> Inspection Tools & Equipment -> Amphenol Meter Accessories -> Protimeter Surveymaster Deluxe Dual Moisture Meter
Protimeter Surveymaster Deluxe Dual Moisture Meter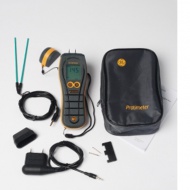 (Click to enlarge)
Two meters in one with these built in functions: Search Mode - uses a non-evasive radio frequency to detect moisture below the surface and behind finishes: Measure Mode - uses pin electrodes or deep wall probe (included) for precise measurements in common building materials.
Check out it's new robust, ergonomic design and additional upgraded features! However, it does still operate on the same quality principles and performance level as it's predecessor. Utilizing it's highly effective Search & Measure system, the non-invasive radio frequency mode helps search below the surface for dampness; and the proven two-pin method is used for measuring.
Surveying an area using the Search & Measure procedure allows for a more detailed assessment than can be possible with a conventional moisture meter alone. For ease of use, moisture readings are indicated not only by color-coded LED displays, but also as a digital readout on the LCD screen for Measure mode and an audible alarm in the Search mode.
Features:

Loud, audible warning tone
Wide detection range: 7-100%
Automatic power-off adjustable from 1-3 minutes
Includes 2 AA batteries & pouch with belt clip
Hold reading function
Automatic calibration check
Spec Summary:

Measurement range Measure mode: 6% to well above fibre saturation in wood and beyond (to nominal 100)
Search Mode: Relative, color-coded
Calibration Measure mode: Wood moisture equivalent
Search mode: Relative Display
Measure mode: 3-digit LCD and synchronized green, yellow & red LED display
Search mode: Green, yellow and red LEDs Resolution
Measure mode: LCD ±0.1%
Search mode: Not applicable
Audible alarm
Search mode only: Adjustable synchronized with LED display
Instrument size & weight: 6.5 x 2 x 1.6"/.5lbs.
Operating temperature range: 14 to 113¡F
Includes:

Meter
5" (127mm) insulated deep wall probes (BLD5018)
Moisture Probe (BLD5060)
Calcheck WME mode calibration check (BLD5086)
2 spare pins
Pouch and instruction manual
Wood species calibration table
Available Options/Accessories
BLD5365 Surveymaster Moisture Meter Kit


Free Domestic Ground Shipping for this item!

$599.95
Add To Cart
BLD5020 Deep Wall Probes - 9" (240mm)
$68.95
Add To Cart
BLD5060 Heavy Duty Moisture Probe
$52.00
$49.95
Add To Cart
BLD0500 Replacement Pins 1" 20/Pack
$28.00
Members: $26.60
Add To Cart
BLD5018 Deep Wall Probes - 5" (127mm)
$69.00
Add To Cart
BLD5086 Calcheck Device (WME)
$11.00
Members: $10.67
Add To Cart
BLD5055 Hammer Electrode
$196.95
Add To Cart
BLD5070 4" EIFS Probe
$107.95
Add To Cart
BLD5296 Hammer Electrode Needles
$75.00
$69.95
Add To Cart
BLD2000CAP Pin Cap for Surveymaster
$6.00
Members: $5.82
Add To Cart
BLD5055-BA Replacement Hammer Base
$84.00
Members: $81.48
Add To Cart
BLD5055-CA Replacement Hammer Head Cable
$37.00
Members: $35.89
Add To Cart