Products & Equipment: The Micro Store
Micro Store -> Inspection Tools & Equipment -> Tramex Meter Accessories -> Tramex Moisture Encounter PLUS
Tramex Moisture Encounter PLUS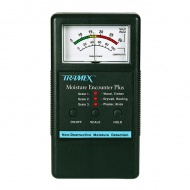 (Click to enlarge)
The Moisture Encounter Plus is a non-destructive overall building inspection tool which has applications for numerous industries. It has many unique features that make moisture measurement and evaluation fast, precise and versatile.
Features:
Wide range of readings for wood from 5% to 30%.
Deep signal penetration to over 1" into the materials being tested without the need to damage the surface. Signal penetration depends on material being tested and meter setting.
Three ranges of sensitivity: Wood, Timber / Drywall, Roofing / Plaster, Brick – making it ideal for testing various building materials.
Detects moisture through paint, wall coatings, drywall, ceramic tiles, floor coverings, wood, roof coverings and ceiling tiles.
High moisture audio warning tone.
Warranty:
All Tramex products carry a full satisfaction guarantee including a one year warranty against defects in parts & workmanship and a refund if the unit is returned, shipping pre-paid, in new condition within 21 days of original delivery. Proof of purchase is necessary
Available Options/Accessories
MEP Moisture Encounter Plus


Free Domestic Ground Shipping for this item!

$424.95
Members: $424.95
Add To Cart
CALBOXMEP MEP Calibration Check Box
$74.00
Add To Cart
Free Domestic Ground Shipping for this item!
More photos of this item:
(Click to enlarge)