Products & Equipment: The Micro Store
Micro Store -> Inspection Tools & Equipment -> Tramex Meter Accessories -> Tramex WME Wood Moisture Encounter
Tramex WME Wood Moisture Encounter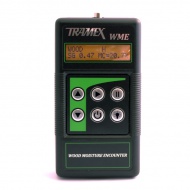 (Click to enlarge)
Non-Destructive Moisture Meter for Wood with attachment available for Pin-Type Resistance Probe Measurement.
Features:
Read non-destructively 1¼" (30mm) deep in wood.
Adjustment of specific gravity for wood species correction.
Backlit display for easy viewing in low light conditions.
Range of Plug-in handheld pin type wood probes for invasive testing (optional).
Individual scales for precise readings in different wood species in pin-probe, resistance mode.
Temperature adjustment capability for accurate pin-probe measurement.
Warranty
All Tramex products carry afull satisfaction guarantee including a one year warranty against defects inparts & workmanship and a refund if the unit is returned, shippingpre-paid, in new condition within 21 days of original delivery. Proof of purchase is necessary.
Available Options/Accessories
WME Wood Moisture Encounter
$439.95
Members: $426.76
Add To Cart
CALBOXWME Calibration Check Box
$74.00
Members: $74.00
Add To Cart
More photos of this item: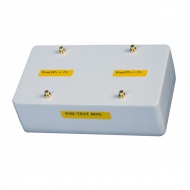 (Click to enlarge)