Products & Equipment: The Micro Store
Micro Store -> Inspection Tools & Equipment -> Tramex Meter Accessories -> Tramex CMEX II Concrete Moisture Meter (Digital)
Tramex CMEX II Concrete Moisture Meter (Digital)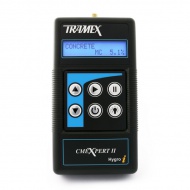 (Click to enlarge)
A digital version of the CME4 handheld electronic moisture meter designed for the instant and precise measurement of moisture content in concrete and other floors and screeds. Incorporating plug-in ports for the optional Hygro-i ® relative humidity probe and heavy-duty pin-type wood probe, this meter transforms into the ideal all-in-one instrument for the flooring professional.
Features:
Measures up to 6.9% Moisture Content in Concrete.
Large clear backlit digital display.
Hold function "freezes" meter reading when inspecting areas where the meter face is not visible.
7% to 40% Moisture Content measurement in Wood using Pin-type probe attachment. (optional)
Attaches to a relative humidity Hygro-i ® probe for in situ testing of concrete to ASTM F2170. (optional)
Warranty:
All Tramex products carry a full satisfaction guarantee including a one year warranty against defects in parts & workmanship and a refund if the unit is returned, shipping pre-paid, in new condition within 21 days of original delivery. Proof of purchase is necessary.
Available Options/Accessories
Tramex CMEX II Concrete Moisture Meter
$529.95
Members: $514.06
Add To Cart
CALCRH Calibration Check Plate
$74.00
Members: $74.00
Add To Cart
HH14TP30 Heavy Duty Pin-Type Wood Probe with Cable and Pins
$94.00
Members: $91.18
Add To Cart
HH14SP200 Heavy Duty Electrode with Cable and 7" Pins
$128.00
Members: $124.16
Add To Cart
More photos of this item: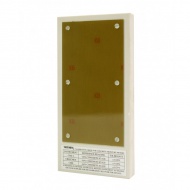 (Click to enlarge)